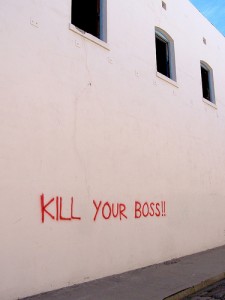 I'm really feeling the writing bug biting me on the ass right now, so I decided to capitalize on this moment and stop being a stranger around my own blog.  Here's what's on my mind and what's happening right now in the world of Elijah and Veronica…
Over the last month or so it has been apparent that Veronica is getting antsy about joining me and taking the work at home plunge, as I like to call it.  This is awesome – but it is also presenting some challenges.
When we originally started this blog back in July of 2008 (just got the GoDaddy renewal notice) our plan was that I would quit my job, put into action everything I had been teaching myself for the 7 months prior to that and set up a network and foundation so that hopefully, within a year or so, she would leave her job and we can begin living the coprenuer life we've dreamed of since we first met.
Well, reality (opportunity) is definitely starting to knock…
Not only have I surpassed anything that I could have imagined – but I've also managed to learn an insane amount of information and techniques in this short amount of time (with a little blood, sweat and insomnia of course).  This means that we are now in a position to complete the last step of phase one and begin putting into place the milestones that will ultimately give us the freedom and space to live and build a family without corporate chains attached.  The dream of every modern day, twenty-something hippie child…
More closer to thirty-something, but that's besides the point!
It seems that now that things are pretty much where we planned for them to be, taking the initial plunge is not as easy as it once appeared to be – for Veronica that is.  You see, by nature she has always been concerned with being "liked" or civil with her employer and fellow employees.  This tends to involve treating people well and not stepping on any feet during her course of 9 to 5 existence.
Myself on the other hand have never been close with co-workers, or integrated too far into any company for that matter – because I always had the attitude that it was a job – and it was temporary.  If me leaving screwed somebody over, that was the companies problem – not mine.
She is now faced with a challenge in the form of trying to identify the right "time" to break the news, and the right "way" to part – in the most humane fashion.
When taking the work at home plunge, here are some questions to ask yourself before hand:
Do I really care about the people I work with?
Am I financially ready to work from home?
How much money will I save from working at home?
If all hell breaks lose, do I have a backup plan?
Is my at home environment equipped to ensure maximum productivity?
What sort of day-to-day challenges will I face when working at home?
What benefits will I gain from working at home?
How can I leave my company while maintaining credible references?
If I hate my boss, how much will I get charged if I piss in his/her coffee?
All in all, I really believe that we are in a position to take plunges and make mistakes – after all, we don't have any children (yet), mortgages, car payments or anything else restrictive.  If our business fails (which it won't) we can always get some bull shit jobs to pay the bills.  If we go completely broke (which we won't) we can always get celebrity makeovers and stage a sex tape which we'll sell to TMZ.com for a quick 10 g's…
The ultimate question is:  Will you ever be 100% ready to do anything in your life?
The answer is no.
So I say do it.  Don't ask for permission, learn from your mistakes and pay the consequences when they arise.  Of course if you have kids, a car, a house and a family then don't be stupid.  But if you don't – be stupid, work hard and make it happen.  There really is no reason why it shouldn't work out in the end!
Cheers,
Elijah