For those of you who can recall April started off with me setting an obscene goal for myself: to flip 20 websites in 30 days.  Almost all of you crazy people responded with genuine encouragement and rooted me on via emails and comments on my Sitepoint auctions – and it was much appreciated!  All in all, April proved to be many things, and a overall success is definitely one of them!
So without further delay, let's get right into the stats, the screen shots and the challenges I faced throughout the month – as well as the many lessons I learned.  You guys and gals know I'm not a fan of bullshit people with bullshit screen shots and claims, so be assured that all earnings and screen shots are legit and no figures have been tampered with in any way shape or form.
Total Earnings Minus Paypal Fees
As you can see in the screen shot to the left, I had a total of $3566.79 in earnings, minus the Paypal fees.  Note**this total does not include a few Hostgator sign ups I had via my site flips. This total is also in US dollars, which is irrelevant to me.
Total Expenses
After subtracting my expenses from my earnings above, my new total of net earnings for April comes in at $2990.15 USD.  That equates to a total of $576.54 in expenses. This includes domain name purchases, content outsourcing, listing fees etc…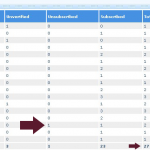 Total Subscribers Gained
Another contributing factor to my massive success was due to a list building element I've incorporated into my niche website business. I gained 26 new subscribers in April, all of which signed up via a link at the end of my auction copy – this brought repeat business. This was pretty sweet!
Here's a little tidbit of information I thought you guys might like to know:  At the beginning of each month, and April in particular, I absolutely freak-the-fuck-out thinking to myself, "what the hell am I doing?" "what if this doesn't work" "what if people don't want my websites or services?" "what if it all ends today?" and at the ending of each month I come to realize that I earned more than I did the previously.
I'm sure I can compile several logical reasons as to why I go through this each month, but the reality of it is that I actually do know what I'm doing, and that there is a demand and huge market of webmasters, both experienced and flowering, who find my website packages and services very useful and economical.  Will realizing this prevent me from freaking out in the first week of May?  Probably not, lol.
Anyways – Here are the totals for the month regarding the actual amount of websites I built and sold:
15 sites developed/sold
5 sites developed privately
10 sites sold on Sitepoint
2 sites re-listed which didn't sell initially
5 more private site builds for May (sweet!)
$3546.02 in profit (Canadian Dollars)
So all in all, it looks like my site flip madness was a success!  Truthfully, I can only see this business model becoming more efficient and cost-effective.  Think about it… I sold my first website back in September, when I was broke and we had no money for groceries.  Now, 8 months later, I am making more money monthly then I did as an insurance broker, I am working from the comfort of my home – and I have more time for myself and my relationship with Veronica, my friends and family.
So I ask you this: What is holding you back?  Is it time?  Is it money?  Is it your own apprehension?
Whatever it is, I encourage you to sit back and evaluate your situation.  I encourage you to really shoot for the stars, stick with one business model and work it until it is a fine-tuned machine.  Will I be flipping websites forever?  Probably not.  Will I continue to kick ass online and take names?  Fuck yeah.
Whatever is holding you back, you need to identify it and come up with a sound plan to work around it and start to take the necessary leaps required to work from home and make money online.
Cheers,
Elijah