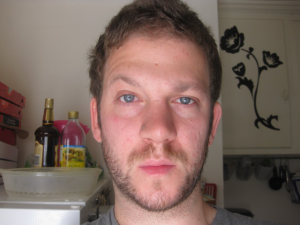 Do you see this face?  This is the face of a man who will not go quietly.  This is the face of a man who will not give up on his dreams of financial freedom and mini retirements; all because the system refuses to cooperate.  Technology tried to crush our focus.  The corporations tried to give us the runaround.
They tried to kill TheAtHomeCouple.
They tried to kill Elijah and Veronica.
They tried to kill us and they failed.
For those of you who've been wondering if we're doing ok, here is a brief, but graphic summary of the last 8 weeks:
The light bulb in my desk lamp blew out.  At first it didn't seem like a big deal, but later I would realize that it was a symbolic gesture foreshadowing the mind-numbing course of events to follow.  A few days after that our Internet stopped working.  It had been 3 years, with the same service provider, without a bump.
No internet equals no money.  Funny how the guru's never mention that one.  Note to self.
With the obvious sense of impending urgency, we decided to give them 2 weeks to fix it.  3 technicians and 2 weeks later the problem was still occurring, so we made the executive decision to cancel services (broadband cable internet and digital cable television) and call up our voip provider and get some DSL web service bundled-up and running.
If it were only that simple.  There is no "option" in "monopoly".
6 weeks, 40 phone calls and 7 support tickets later, we have no high speed internet, our credit cards are maxed out and we're 2 months behind on all of our utility bills with $20 in the bank.  There is no bail out for ambitious home business owners.  Help was not on its way.  We were 1 click away from checking out the cubicle-job market on Craigslist.
Apparently hitting rock bottom is required and we were fulfilling our obligation.
Today is Wednesday, and today we have high speed.  We've come full circle to our original service provider, but discovered along the way that they have business internet and phone solutions that offer a more robust support package, with a considerable increase in service speed and features.  Where was this 6 weeks and $3000 ago?
Please listen to what I'm about to tell you…
If you have or are planning to quit your job and work online full time – make sure you have a solid,  back up resource for high speed internet.  Whether it's your grandmothers place, a Starbucks downtown or a 4G usb internet stick – know exactly where you are going and what you will do if you suddenly have no internet access.
I realize that in this day and age we completely abuse and take advantage of our dependency on technology.  Money spends the majority of our lives in a virtual state.  Our banking, businesses and social black books rely on technology.
If you're chasing this money making dream – please take at least 30 minutes to think about what I've just shared with you.  Yes, we can all make money online.  Yes, we can quit our jobs and cash Adsense checks once a month.  Yes, we can visit each others blogs and make little jokes about things we'll do when we're "at the top".
But what will you do if all these great things were coming into fruition and your internet connection fails?  Simple, yet deadly.
Cheers,
Elijah