Blogging is my first true love online.  Whether it's the creative outlet to write anything I want or the excitement of getting that first comment on a new blog post – I still have huge plans for myself as an expert blogger and social media guy.
With that in mind, I've spent nights tossing in bed over the last month trying to muster up the (courage) to give TheAtHomeCouple.com a new face and plan.
I've always taken pride in the fact that this blog doesn't make us money (excl. random affiliate sales and adsense trickles).  We keep our money sites separate from our personal blog and this has always worked for us.
But to be perfectly honest… I want more… TAHC could be so much more!
So I finally made the decision to start a FRESH design – take a  SNEAK PEAK below: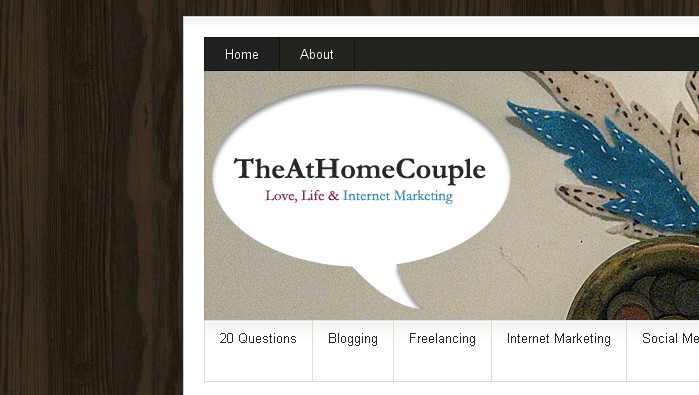 I know it's not much – but it's going to be EPIC!
Veronica and I have also been carefully crafting a master plan to take TheAtHomeCouple.com to higher levels i.e. increased branding, free resources and MORE video posts, tutorials etc… More awesome stuff to make you think, teach you something and/or inspire you some way in your life on and off the web.
Inspiration has always been my drug of choice.
Cheers,
Elijah