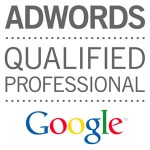 So September has come and gone pretty quick, and I figured it was about that time for me to step back into my blogging shoes and broadcast my life (and musings) to the interwebs once again.
It's been almost 5 months since I put my at-home business aside and started working for a "big league" web agency as their resident SEO / social / copy writing ninja. Even though the company would be considered small compared to some of their competitors (there's about 30 employees) the business we do is BIG.
Big clients, big money and big expectations. Definitely a major shift from the offline / local business game I was rocking for the last 2 years. It's like night and day.
So one of the things I've been doing a lot of (since day one) is managing our internal Google AdWords campaigns – which I'll admit I didn't have much experience with going into this position.
Though my PPC skill level has increased immensely in the last few months, I still feel that I need to take that extra step and become AdWords Certified so we can start offering campaign management to our existing and new clients – and bring in more revenue.
Makes sense, right?
I talked to the boss (who's my age) and told him exactly what I just wrote – and his reply was "Cool. Find out what courses you need and the process for getting certified. Let's do it. "My reply was something along the lines of "sweet!"
So as of October I'm going to be studying to take the AdWords Certification tests. The way it works is you complete the study modules at your own pace and take 2 tests at $50 a pop. Once I become certified as an individual (and get the little badge to put on our website) then the company will be able to get certified as a whole.
I'm pretty pumped!
Anyways – that's what's going on with me these days! I'll keep you guys posted on my progress and post up any interesting AdWords techniques/tricks I discover along the way 🙂
Maybe create my own course down the road? lol…
Cheers,
Elijah