My Internet Marketing career, for the most part, has been a series of experiments. I've made money in almost every niche imaginable and tested hundreds of methods and techniques.
The reason I'm telling you this is because a lot of people seem to miss the point when it comes to earning a respectable living online…
You cannot sustain a living on a single income stream.
Your income must spread, much like the types of projects you create or the training and continuing education you invest in.
Just to put it in perspective, these days I earn a living from the following income streams:
SEO Consulting
WordPress Development
Copywriting
Google AdWords Consulting
Social Media Management
E-Commerce Sales
Affiliate Marketing
And the occasional design consultation 🙂
Going back to the title of this blog and the original reason why you clicked, I want to talk a bit more about the fourth point which is Google AdWords consulting.
When it comes to AdWords, many marketers share the same feelings…
AdWords is too expensive.
AdWords doesn't work for my business.
Facebook and Bing are cheaper, so I'm just going to use them.
What I'm here to tell you today is that Google AdWords is not only one of the best performing ad networks online, but it also has the most advertisers.
Google AdWords is #1 because it generates some of the highest quality traffic in the digital world.
As a marketing consultant, I'm able to charge big bucks to perform simple Google AdWords services that businesses are in desperate need of.
And when you find the right niche markets, you'd be surprised just how much you can profit from a little AdWords assistance.
I'm not talking about hardcore advanced tactics like conversion optimization or bid strategy, but simple tasks like re-organizing Ad Groups or setting up an a/b test to improve click through rate.
Here's a real world example of what I'm talking about: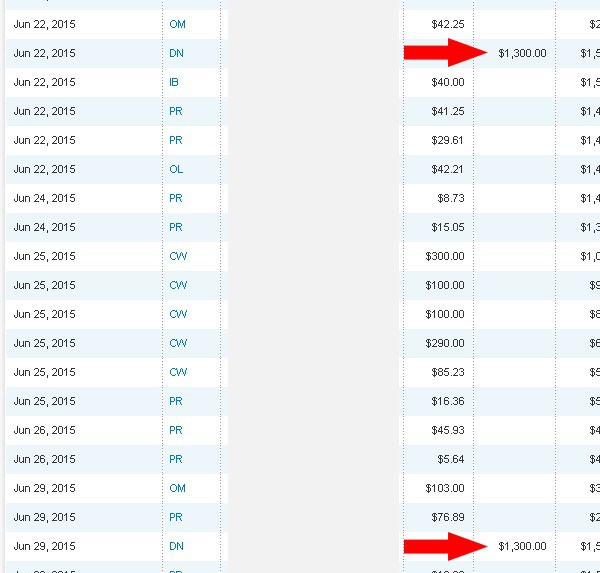 In the last week of June I acquired two new clients at $1300 each, just to review their AdWords account and clean up their keyword lists.
It took me less than 3 hours to do per client…
That's $2600 for less than 6 hours of actual "working time"..
This is where that saying "when opportunity knocks" applies…
Expertly researching and setting up AdWords Campaigns is a high value, in demand service that businesses need.
I have spent the last 90 days documenting my fool-proof, step by step method for setting up Google AdWords campaigns, and I'm proud to offer you this limited time training as a genuine opportunity to make some real money online…
Introducing: Google AdWords Made Easy.
A 67 page, no fluff guide that walks you through setting up a profitable AdWords campaign from start to finish, and immediately positions you as a specialist to hundreds of offline business owners in your area who need your services.
If you are a business owner, then this guide will give you the exact strategies I use to set up hyper-targeted Ad Groups that will out perform your competitors.
Who this training guide isn't for:
If you've never paid for traffic before or don't think you can write a decent ad, then this guide probably isn't for you.
This isn't some make money quick scheme we're talking about… These are people's businesses which they rely on to pay their mortgages and put food on the table.
If you want everything for free without putting in the money, time, and work, then you're better of leaving now.
Who this training guide is for:
If you are willing to put in the work to go through the material step by step, and take the time to set up campaigns and get results, then this is for you.
Plain and simple.
You don't need any special skills other than a basic understanding of internet marketing, Google Search, and writing.
We did a soft launch earlier this month and have now made the training guide available on Warrior Plus at an 80% discount!
You have 2 choices:
You can click here to view the sales page and get instant access to the Google AdWords Made Easy training guide for only $9.95 – that's 80% off the retail price.
Or…
You can click here and download the first 3 chapters absolutely free. This way you can go through the table of contents and verify whether it's worth shelling out the ten bucks..
As always, I'm here to answer questions pre and post purchase.
After you purchase you will be taken to Warrior Plus where you will choose to pay with Paypal or Credit Card.  Once payment has been made you will be redirected to the download page where you can access the guide.
And I will also email you the link so you have access to it for later 🙂
That's all she wrote!
Let me know if you have any questions.
Cheers,
Elijah
P.S.  What would a quality offer be without bonuses? The first 50 buyers will also receive my bonus Cheat Sheet, Mind Map, and Resource Guide that are designed to keep you on track as you set up your campaigns.
P.P.S.  For those of you wondering, there is a one time offer to upgrade to our 16 Video Over-The-Shoulder Training. Though these HD videos are guaranteed to increase your learning, they are absolutely optional and not required.
Photo Credit: akoenigsberg | cc