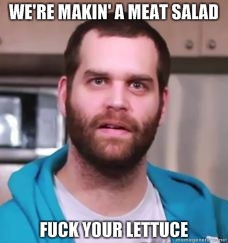 This is amazing on so many levels – that I had to write up a quick post and share the news with you!
If you haven't been living under a rock for the last 6 months, then I'm sure you've heard of or seen a video by EPIC MEAL TIME.  Started by a bunch of crazy cakers (fellow Canadians) EMT has grown into a huge viral sensation on the web.  How about a TurBaconEpic Thanksgiving or a Jack Daniels destroying Massive Meat Log?
Yeah, these guys know how to do it big – did I mention they're Canadian?
Along side the meatheads at Epic Meal Time going mobile, I was just notified that my buddy's Karim and Luke over at MobilizeMe.com were part of the team behind EMT's new mobile friendly website!  Their design include's all kinds of sexy features like full social media integration, a custom CMS and real time video blog updates.
Sweet.
Here's what Morgan Mallary, Sales Director at MobilizeMe, had to say about their recent collaboration:
"With millions of weekly views, Epic Meal Time is becoming an international phenomenon! Being from Montreal ourselves, we're extremely proud of their continued success. Epic's new mobile website allows fans to watch and share videos directly from their smartphone; they can even browse for their favorite t-shirt or read the team's latest Tweets"
Did I mention that MobilizeMe is also a Canadian company?
I guess the moral of my story is that Canada rules, Epic Meal Time is the shizznat and MobilizeMe is murdering the mobile design market single-handedly.
And here I am in the middle of it all, drinking a pint and watching the Leafs and Bruin's duke it out for a playoff spot.
Hi Mom.
Cheers,
Elijah